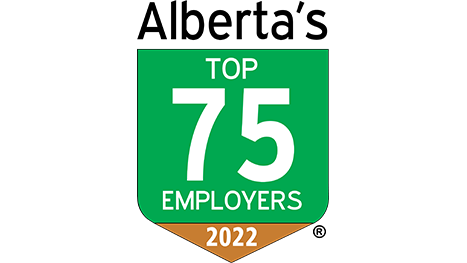 January 25, 2022, AB: Today, Silvacom Ltd. (Silvacom) was named one of Alberta's Top 75 Employers for the sixth consecutive year in an annual competition organized by the editors of Canada's Top 100 Employers.
This award recognizes the Alberta employers that lead their industries in offering exceptional places to work. Winners were announced in a special edition magazine published in the Edmonton Journal and Calgary Herald and online at edmontonjournal.com and calgaryherald.com. The 75 winning workplaces are not ranked in any order.
"Silvacom is known for having a great balance between a fun corporate culture and a top-performing, strengths-based team," says Tom Grabowski, Silvacom's President and CEO. "Our employees are the reason for our 39 years of success and winning this award for the sixth consecutive year shows how committed we are to investing in them."
First published in 2006, Alberta's Top Employers is an annual competition organized by the editors of Canada's Top 100 Employers. This special designation recognizes the Alberta employers that lead their industries in offering exceptional human resources programs and forward-thinking workplace policies. Employers are evaluated using eight criteria: Physical Workplace; Work Atmosphere & Social; Health, Financial & Family Benefits; Vacation & Time-Off; Employee Communications; Performance Management; Training & Skills Development; and Community Involvement.
The judges offered several reasons for selecting Silvacom, including:
As part of the company's health benefits plan, employees receive $1,200 flex dollars which can be allocated towards health care, home office expenses, wellness, the purchase of extra vacation days, child care, or transferred to an RRSP

Silvacom cultivates an ownership culture through a share purchase plan, available to all employees, and lets everyone share in the fruits of their labour with profit-sharing

In addition to generous matching RSP contributions, Silvacom helps employees prepare for the future with retirement planning assistance and phased-in work options to help those nearing retirement
"We are proud to have created a corporate culture that is engaging for our employees," says Tom. "It's important to create an environment that people want to work in, where innovation and hard work is rewarded."
"The Alberta employers chosen for this year's list show a strong understanding of the need to come together during challenging times," says Kristina Leung, Senior Editor at Mediacorp. "From taking care of employees' wellness and mental health needs during the pandemic to supporting local community groups under strain, these organizations have gone the extra distance to keep people together."
A full list of recipients can be found online at canadastop100.com/alberta.
Interested in working for Silvacom? Please visit the Silvacom careers page: silvacom.com/careers. For the most up-to-date Silvacom news, follow Silvacom on LinkedIn, Twitter, or Facebook.
**END**
About Mediacorp Canada Inc.
Founded in 1992, Mediacorp Canada Inc. is the nation's largest publisher of employment periodicals. Since 1999, the Toronto-based publisher has managed the Canada's Top 100 Employers project, which includes 18 regional and special-interest editorial competitions that reach millions of Canadians annually through a variety of magazine and newspaper partners, including The Globe and Mail. Mediacorp also operates Eluta.ca, one of Canada's largest job search engines, which reaches millions of job-seekers annually and features editorial reviews from the Canada's Top 100 Employers project.
About Silvacom
Established in 1983, Silvacom™ is a leading natural resource management company providing professional services to private and public sector organizations. They're passionate about working collaboratively and creatively with their clients and partners to solve complex natural resource management challenges in the most efficient and cost-effective way. Silvacom was previously named one of Canada's Top 100 Small and Medium Employers (SME) in 2016, 2018, 2019, 2020, and 2021, and one of Alberta's Top Employers in 2017, 2018, 2019, 2020, and 2021. Learn more at www.silvacom.com.
For further information, please contact:
Lindsay Penny
Marketing & Communications Coordinator
lindsay.penny@silvacom.com
780-462-3238