January 31, 2023, EDMONTON, AB – Today, Silvacom Ltd. (Silvacom) was named one of Alberta's Top 75 Employers for the seventh consecutive year in an annual competition organized by Canada's Top 100 Employers.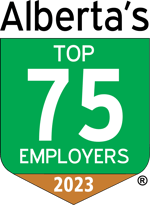 This award recognizes the Alberta employers that lead their industries in offering exceptional places to work. Winners were announced in a special edition magazine published in the Edmonton Journal and Calgary Herald and online at edmontonjournal.com and calgaryherald.com. The 75 winning workplaces are not ranked in any order.
"As we enter our 40th year in business, it is the perfect time to reflect on what we have built together as a team. Every success is down to our dedicated and hardworking employees", says Tom Grabowski, President and CEO of the Silvacom Group. "We pride ourselves on caring about our team and we reap those rewards in many ways. I am excited for the future and continuing to push the envelope as a top employer in Alberta and across Canada."
First published in 2006, Alberta's Top Employers is an annual competition organized by the editors of Canada's Top 100 Employers. This special designation recognizes the Alberta employers that lead their industries in offering exceptional human resources programs and forward-thinking workplace policies. Employers are evaluated using eight criteria: Physical Workplace; Work Atmosphere & Social; Health, Financial & Family Benefits; Vacation & Time-Off; Employee Communications; Performance Management; Training & Skills Development; and Community Involvement.
The judges offered several reasons for selecting Silvacom, including:
Silvacom's move to an all-new executive-style office building kitted out with custom wallpaper, new kitchens, ping pong tables, a video game station and collaborative working spaces. All staff also had a chance to contribute to the layout and design of the new office.
During the last year, Silvacom grew its workforce from 76 to 106 – hitting a company record for new hires in one year.
The wide range of social events and activities for staff and their families including virtual events for remote employees, and new events like puppy therapy and go-karting.
"Recent forecasts point to significant job creation in Alberta," notes Richard Yerema, executive editor at Mediacorp. "With the growing demand for the latest skills and new ways of working, employers in the province are having to work harder to attract talent amid a very tight labour market."
The full list of Alberta's Top Employers (2023) was announced today in a special magazine published in the Calgary Herald and Edmonton Journal. Detailed reasons for selection for each of the winners were released by the editors today and can be found online at canadastop100.com/alberta
Interested in working for Silvacom? Please visit the Silvacom careers page: silvacom.com/careers. For the most up-to-date Silvacom news, follow Silvacom on LinkedIn, Twitter, or Facebook.
**END**
About Mediacorp Canada Inc.
Founded in 1992, Mediacorp Canada Inc. is the nation's largest publisher of employment periodicals. Since 1999, the Toronto-based publisher has managed the Canada's Top 100 Employers project, which includes 18 regional and special-interest editorial competitions that reach millions of Canadians annually through a variety of magazine and newspaper partners, including The Globe and Mail. Mediacorp also operates Eluta.ca, one of Canada's largest job search engines, which reaches millions of jobseekers annually and features editorial reviews from the Canada's Top 100 Employers project.
About Silvacom
Established in 1983, Silvacom™ is a leading natural resource management company. We're passionate about working collaboratively and creatively with our clients and partners to solve complex natural resource management challenges in the most efficient and cost-effective way. Silvacom was previously named one of Canada's Top 100 Small and Medium Employers (SME) in 2016, 2018, 2019, 2020 2021 and 2022 and one of Alberta's Top Employers since 2017. Learn more at www.silvacom.com.
For further information, please contact:
Elva Kennedy
Marketing & Communications Manager
780-462-3238
####