April 4, 2023, EDMONTON, AB – The Silvacom Group is proud to announce that it has been named one of Canada's Top Small and Medium Employers (SMEs) for the seventh consecutive year. The award was announced today and is part of the Canada's Top 100 Employers project run by Mediacorp Canada Inc. (Mediacorp).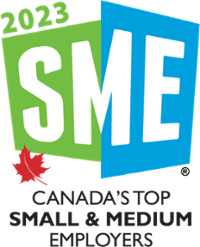 This award recognizes the small and medium enterprises (SMEs) that offer the nation's best workplaces and forward-thinking human resources policies. Winners are selected based on criteria such as physical workplace; work atmosphere & social; health, financial & family benefits; vacation & time off; employee communications; performance management; training & skills development; and community involvement.
"We are very proud to receive this award again this year," says President and CEO of the Silvacom Group, Tom Grabowski. "It speaks volumes about how much we value our employees and how committed we are to creating a great place to work for them."
At the Silvacom Group, we understand that our success depends on our employees' ability to do their best work every day. We strive to create an environment where everyone feels valued, respected and empowered to succeed by offering competitive salaries, flexible work arrangements, engaging learning opportunities and generous benefits packages.
"The employers chosen this year represent the 'best of the best' and many have pioneered initiatives that would have been unthinkable five years ago," says Kristina Leung, managing editor of the Canada's Top 100 Employers project.
The Canada's Top SME award is a prestigious recognition of the best SMEs in Canada, and the Silvacom Group is proud to be among the winners for the seventh year in a row. The 100 winning workplaces are not ranked in any order, and all are recognized for their exceptional workplace environments and policies. The judges offered several reasons for re-selecting Silvacom, including:
Annual $1200 flexible spending account
Open book style of management with bonus options for all employees
Full health, dental and vision benefit plan is paid for employees of 12 months or more while on maternity leave
A generous company-sponsored RRSP plan (up to 9% of salary)
"In contrast to larger organizations where there can sometimes be layers of red tape around career growth and interaction with other departments, SMEs have a 'culture of connection' where employees help build the company and contribute ideas," adds Richard Yerema, executive editor at the Canada's Top 100 Employers project. "This atmosphere allows employees to build deeper connections with colleagues at all levels of seniority and lets them see the impact of their work."
The full list of recipients can be found online at canadastop100.com/sme. For more information on why Silvacom was chosen, please click here.
Interested in working for Silvacom? Please visit the Silvacom careers page: silvacom.com/careers. For the most up-to-date Silvacom news, follow Silvacom on LinkedIn, Twitter, or Facebook.
**END**
About Mediacorp Canada Inc.
Founded in 1992, Mediacorp Canada Inc. is the nation's largest publisher of employment periodicals. Since 1999, the Toronto-based publisher has managed the Canada's Top 100 Employers project, which includes 18 regional and special-interest editorial competitions that reach millions of Canadians annually through a variety of magazine and newspaper partners, including The Globe and Mail. Mediacorp also operates Eluta.ca, one of Canada's largest job search engines, which reaches millions of jobseekers annually and features editorial reviews from the Canada's Top 100 Employers project.
About The Silvacom Group
Established in 1983, Silvacom™ is a leading natural resource management company. We're passionate about working collaboratively and creatively with our clients and partners to solve complex natural resource management challenges in the most efficient and cost-effective way. Silvacom was previously named one of Canada's Top 100 Small and Medium Employers (SME) in 2016, 2018, 2019, 2020 2021 and 2022 and one of Alberta's Top Employers since 2017. Learn more at www.silvacom.com.
For further information, please contact:
Elva Kennedy
Director of Marketing
780-462-3238