On Friday, June 5, Silvacom Ltd. (Silvacom) was named one of Canada's Top 100 Small & Medium Employers (SMEs) for 2020. This is the fourth time that Silvacom has been awarded this title, having been recognized previously in 2016, 2018 and 2019.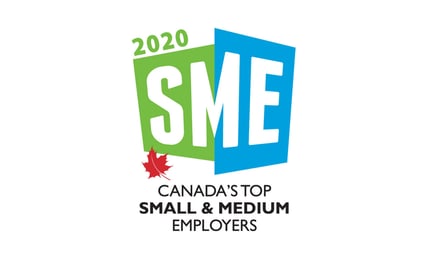 This award is part of the Canada's Top 100 Project run by Mediacorp Canada Inc. (Mediacorp). It recognizes the small and medium enterprises that offer the nation's best workplaces and forward-thinking human resources policies. Winners were announced in a special edition magazine published in the Globe and Mail. The 100 winning workplaces are not ranked in any order. Silvacom is one of only two Edmonton companies recognized in this year's competition.
"Silvacom is honoured to be awarded the title of one of Canada's Top 100 Small and Medium Employers for the fourth time," says Tom Grabowski, Silvacom's President & CEO. "It's our people that make us award-winning and we will continue to invest in them. As 2020 progresses in a way that wasn't originally planned, we are working collaboratively with them to adjust and design our path forward."
Now entering its seventh year, Mediacorp runs the annual competition, and their team of judges consider how each employer compares to others in terms of workplace culture and human resource policies. They thoroughly evaluate and grade on eight criteria: health, financial and family benefits; vacation and time-off; and community involvement. To determine eligibility, the Top 100 editors follow the SME definition used by Statistics Canada, limiting the competition to private-sector companies with under 500 employees.
Silvacom was previously named one of Canada's Top 100 SMEs in 2016, 2018 and 2019 and the judges offered several reasons for re-selecting Silvacom, including:
A competitive health and dental benefits plan and annual $1000 flexible spending account;
A strong focus on professional development through paid in-person and online training and national and international conference attendance opportunities
Flexible work hours, remote working and summer 'earned day off' options;
Three weeks of vacation for all new employees, rising to four weeks at eight years;
A generous company-sponsored RRSP plan
Enhanced health and wellness-related benefits, such as sit-stand desk options, free fresh fruit and complimentary lunchtime instructor-led health and wellness classes
"We've come to realize that small and medium employers are the nation's 'laboratories' for testing emerging best practices: we often see new HR benefits and workplace policies tried first at SMEs, before being adopted at larger organizations," says Anthony Meehan, Publisher at Mediacorp. "Within this dynamic sector, there are a small number of SMEs that are leading the charge when it comes to creating the nation's best workplaces and progressive HR policies. These are the companies chosen by our editors as Canada's Top Small & Medium Employers."
A full list of recipients can be found online at canadastop100.com/sme. For more information on why Silvacom was chosen, go to eluta.ca/top-employer-silvacom.
Are you interested in joining the Silvacom team? Please visit the Silvacom careers page: silvacom.com/careers. For the most up-to-date Silvacom news, follow Silvacom on LinkedIn, Twitter, or Facebook.
-ENDS-
About Mediacorp Canada Inc.
Founded in 1992, Mediacorp Canada Inc. is the nation's largest publisher of employment periodicals. Since 1999, the Toronto-based publisher has managed the Canada's Top 100 Employers project, which includes 18 regional and special-interest editorial competitions that reach over 15 million Canadians annually through a variety of magazine and newspaper partners. Mediacorp also operates Eluta.ca, a large job search engine that includes editorial reviews from the Canada's Top 100 Employers project and is used by almost 8 million users in Canada each year. Mediacorp also hosts the Top Employer Summit, Canada's largest conference for senior-level HR professionals.
About Silvacom
Silvacom is a 100% employee-owned, Canadian natural resource management company established in Edmonton in 1983. Providing professional services to private and public sector organizations across North America, they focus on helping our clients find the balance between social, environmental and economic challenges resulting in better outcomes for all. Silvacom was previously named one of Canada's Top 100 Small and Medium Employers (SME) in 2016, 2018, and 2019 and one of Alberta's Top 75 Employers 2017, 2018, 2019 and 2020. Learn more at www.silvacom.com.
For further information, please contact:
Elva Kennedy
Silvacom Ltd.
3912 - 91 Street NW
Edmonton, AB, T6E 5K7
elva.kennedy@silvacom.com
780-462-3238