Key Componets of a
Forest Management Plan
Download our free checklist
Developing Forest Management Plans (FMPs) is a dynamic process, incorporating knowledge from research, new policy, and legislative changes. FMPs focus on activities (i.e., establishing, growing, and harvesting timber) of forestry companies operating within one or more Forest Management Units (FMUs).
We work with companies to ensure sustainable forest management through the maximization of positive benefits from the resource and the reduction of negative impacts on other values.
Our forestry team is an innovative leader in all facets of forest management planning, including:
Management plan development
Project management
Contributing land base development
Yield curve creation
Timber supply analysis (Allowable Annual Cut (AAC))
VOITs analysis
Non-timber value assessments
Landscape assessment
Operational spatial sequencing
Cycle time analysis
Operational planning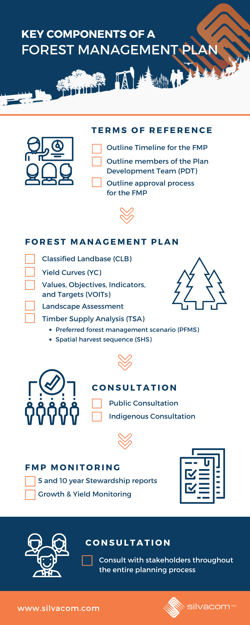 We find the best and keep the best, so our clients
always get the best!
Join our highly engaged, experienced and passionate team of resource professionals
Silvacom (head office)
201 - 4723 52 Ave NW
Edmonton
Alberta, T6B 3R6
Canada