The energy market is changing across the globe as governments and industry seek clean technology solutions in a low carbon economy.
Biomass and the Bioeconomy in Alberta
Biofuels can play a key part in reducing the carbon intensity of our economy. For example, wood pellets offer a direct conversion opportunity to replace or supplement coal power, reducing carbon emissions in electricity generation. Agricultural residues can also be converted into fuels (biodiesel, bioethanol) which can be used in vehicles for transportation.
Markets for biomass are evolving and Alberta, with its abundance of bio-resources, is in a prime situation to take advantage of the growing industry. The Bio-Resource Information Management System (BRIMS) was launched in January 2018 to provide decision makers with answers to questions around biomass availability and ecosystem service opportunities in Alberta.
BRIMS is a decision support tool for investors, resource managers, and decision-makers in Alberta. It provides them with reliable, spatially explicit data to use when conducting, planning, analyzing, and implementing projects and policies. BRIMS is expected to spur economic growth by helping diversify the economy, improve investor certainty related to biomass resources, and give policymakers the tools needed to help manage bio-resources and other ecosystem services.
The BRIMS tool is a free and publicly accessible web application (www.brims.ca) and can be used to map, summarize and report on the biomass and ecosystem services data. This foundation of information will help encourage green investment in the province by answering questions such as:
How much biomass exists?
Where is the biomass located?
What are the components of the biomass?
What is the quality of the biomass?
What ecosystem services exist in Alberta, and where are they prominent?
What are the environmental implications for managing these resources?
A cornerstone to leveraging any resource is having a reliable inventory. Mapping that inventory improves investor certainty in the supply chain by informing potential investors about quantities, spatial locations, and the components and quality of the resource. It also helps encourage informed decisions when managing bio-resources on the landscape. All of this applies to biomass in Alberta.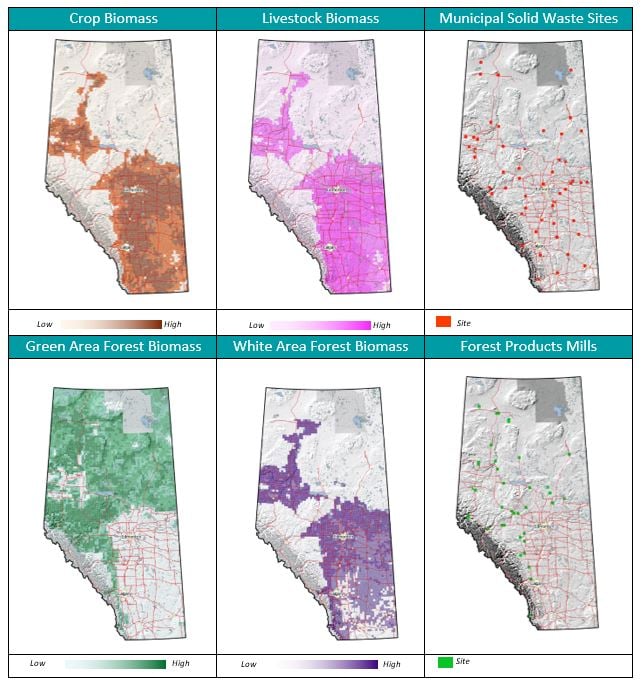 BRIMS highlights location and quantity of potential bio-resources in Alberta
Who Should Use BRIMS and Why?
BRIMS was built with a variety of users in mind. Opportunities exist for municipalities in Alberta to use BRIMS to identify theoretical potential biomass and promote the diversification of their local economies. Businesses can use BRIMS to identify new biomass supply opportunities.
Using BRIMS to Help Diversify or Grow Your Economy
Several Alberta municipalities leveraged BRIMS as a first pass identification of the biomass resources surrounding their communities. These communities identified an opportunity to use BRIMS to help promote bioindustrial development and attract new business to their municipalities.
The value for these communities lies in their ability to promote economic diversification and the investment opportunities available within their jurisdiction. BRIMS can also help communities identify opportunities to achieve sustainability objectives, especially if an ecosystem service offset system is developed in Alberta.
To view one of these reports, please see:
Seeking Opportunities to Expand Your Business
Businesses can always use more accurate information about their input supply needs. Local businesses looking to expand their supply network, diversify suppliers, or just get a better handle on what opportunities exist in their supply network can use BRIMS to help reduce supply risks. BRIMS offers producers an opportunity to connect with markets in which they can fully utilize the potential of their resources.
Seeking Bio-Resource Investment Opportunities in Alberta
The province's unique blend of industries including forestry, agriculture and oil and gas gives Alberta an exceptional opportunity to continue to grow and diversify. With the help of tools like BRIMS, this should be attainable, allowing investors the confidence in the availability of biomass in their respective markets. Accelerating growth of the bioeconomy can help diversify the provincial economy and strengthen rural communities.
By providing spatially explicit biomass data, investors are more confident in the potential investment opportunities in Alberta. Other spatial data in the application can help drive investment by allowing users to locate nearby facilities, transportation networks, and other potential sources of biomass. BRIMS outputs provide a foundation for further supply chain analysis that would further consider ownership, allocation, environment and other logistics.
BRIMS Has Data for Everyone
Municipalities, businesses seeking new supply sources or help securing existing sources, and investors interested in new markets and new opportunities can all leverage the spatially explicit biomass and ecosystem service data available in BRIMS...for free! Alberta is poised and ready to diversify and grow alongside the ever-expanding bioindustry. BRIMS can help that process.
For more information, visit www.brims.ca or contact us.