Alberta's Bio-Resource Information Management System (BRIMS) was formally launched on January 24, 2018, in Edmonton, Alberta.
Key representatives from the Government of Alberta, the University of Alberta, Alberta Innovates and other important industries gathered in the Silvacom head office for the public unveiling and live demonstration of the BRIMS web application.
With an ever-expanding demand for green or sustainable products in Alberta, BRIMS is geared to help propel investments in the bio-economy to another level. BRIMS is a world-class, publicly available data and information management system that collates inventories from forestry, agriculture, and municipal sectors to create a centralized, comprehensive assessment of biomass, ecosystem services, and land-use data.
"BRIMS is a valuable addition to the toolkit for decision-makers that will help answer the questions around biomass availability and ecosystems services opportunities in the province of Alberta," says Steve Price, Executive Director at Alberta Innovates.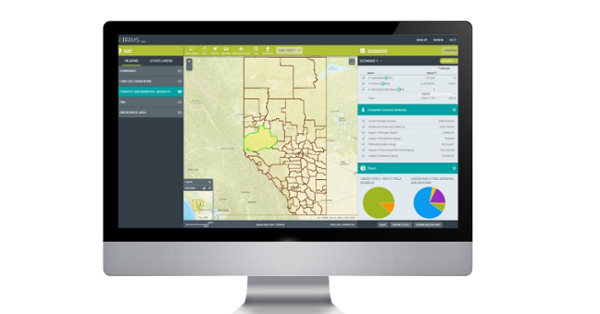 BRIMS provides public access to Alberta's bio-resource and other ecosystems services data through an interactive web tool where users can map, summarize and report on the data. This foundation of information will help encourage green investment in the province by answering questions such as:
How much biomass exists?
Where is the biomass located?
What are the components of the biomass?
What is the quality of the biomass?
What ecosystem services exist in Alberta, and where are they prominent?
What are the environmental implications for managing these resources?
BRIMS is designed to help answer these questions and incorporate the best available data to reduce investor uncertainty and help drive the bio-economy and ecosystem service-based markets in Alberta. Ecosystem services are the benefits nature provides to human well-being and understanding the locations and trade-offs of different ecosystem services helps individuals or businesses make informed resource management and investment decisions.
BRIMS was built with the support of several organizations including Alberta Innovates, Silvacom, Alberta Biodiversity Monitoring Institute, Agriculture Financial Services Corporation, and the Ecosystem Services and Biodiversity Network.
Discover Alberta's bio-resources now at BRIMS.ca!